I love my bullet journal – it has really changed my life for the better as I try to live more intentionally. (To see how, read this post.) And when something's that important in your life, I think it's really important that your tools are fit for the job. A bad notebook could make bullet journaling harder or detract from its purpose. But my bullet journal exists to make life easier and more enjoyable, so I want a notebook that's going to make bullet journaling – and life – easier and more enjoyable too. I want the best bullet journal notebook available.
Competition is stiff: the Leuchtturm is the 'official' notebook for bullet journaling, though personally I'm not a fan of the thin pages. I use one for my work diary but I probably won't buy another.
For those who love thicker pages, Archer and Olive or Scribbles That Matter notebooks are extremely popular – but extremely pricey.
Dingbats is a beautiful notebook, and I use a couple for other things. It's absolutely lovely to write in. However, the slightly wider-than-A5 format and the richly cream pages don't suit my preferences for bullet journaling.
But I've quit trying other notebooks for now, because I've found one that really ticks all my boxes. It's made by a little company called Perfectly Penned. They're a new UK family business committed to quality, affordability and environmental standards. I'm on my sixth notebook from them now, and I am so glad I found them!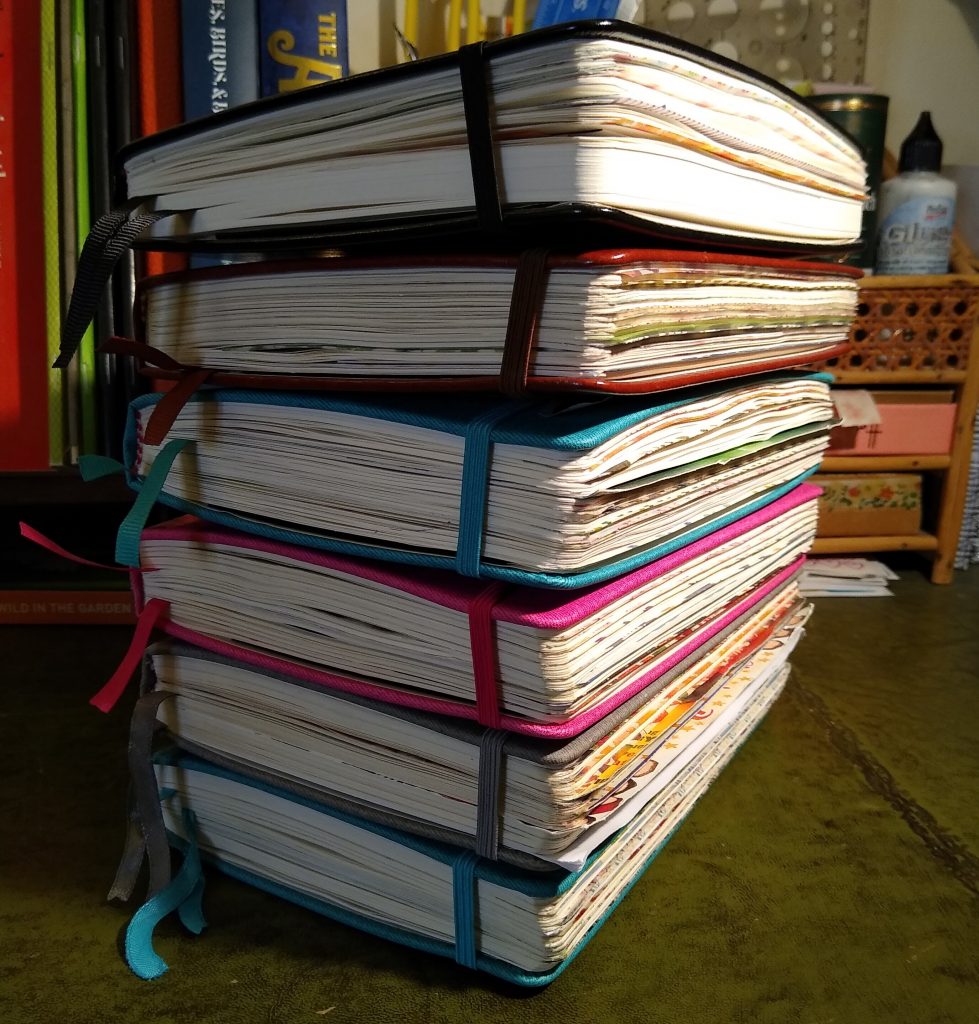 WHY PERFECTLY PENNED IS THE BEST BULLET JOURNAL NOTEBOOK FOR ME
✔ LOTS OF PAGES
Perfectly Penned's Classic and Colour Pop ranges have a brilliant 256 pages! I prefer my bullet journal to last as many months as possible, so a good number of pages is a priority for me.
✔ BUILT TO LAST
They have a durable hardcover and quality binding. A bullet journal notebook can last me up to nine months and it needs to last the course! I also like to stick in flyers, tickets and other mementos when I see gigs or go on trips, so the binding needs to be able to accommodate a little extra width, which it does with ease.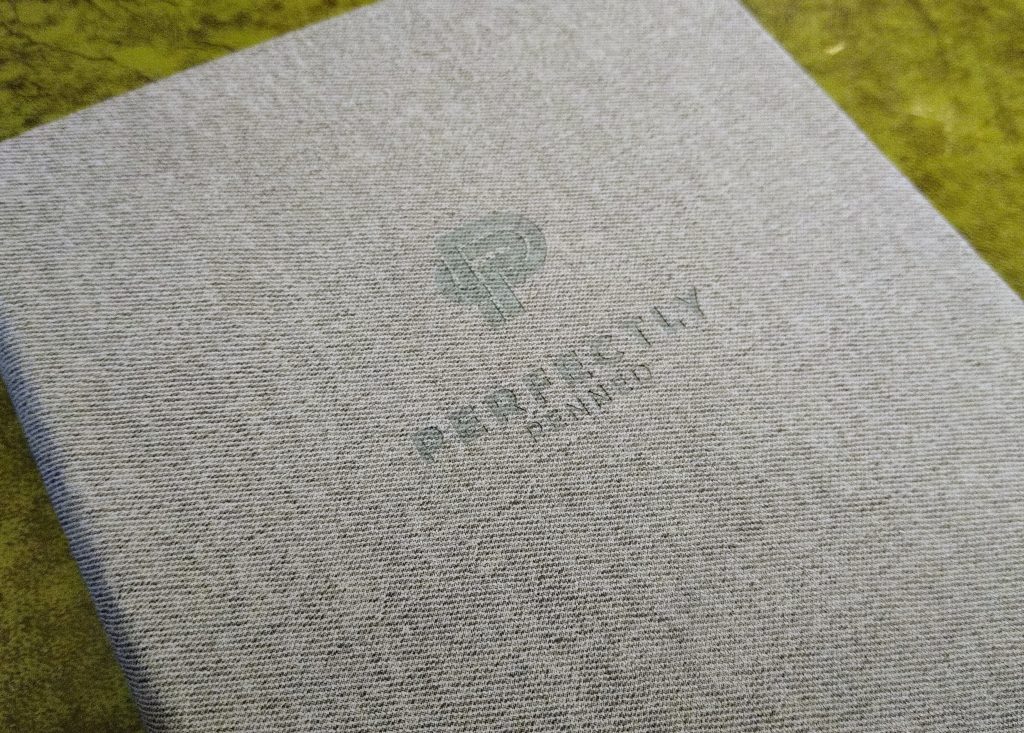 ✔ GREAT PRICE
Perfectly Penned notebooks will only set you back £10-£12 (they started around £17 but have gone down in price since). In comparison, a Leuchtturm tends to be around £15-£18, Dingbats is £18, Archer and Olive £19 plus if you can find them on sale, and Scribbles That Matter around £27! Other similar notebooks are available too, but for robust construction, quality paper and a large number of pages, Perfectly Penned stands out as great value!
✔ GREAT QUALITY PAPER
The pages are 120gsm, acid-free, and high quality. Even using fountain pens there is minimal ghosting to the other side of the page. Acid-free papers last a long time without yellowing and deterioration, so I'll be able to go back and read my bullet journals when I'm ninety! Perfectly Penned also has a new range of notebooks out with even thicker 150gsm paper, but the trade-off is a lower number of pages.
There is also minimal feathering when using fountain pens, due to the coating on the paper. I use fountain pens daily in my bullet journal. If I look reeeeaaally closely I can detect a tiny bit of feathering (when the ink soaks into the paper fibres and slightly blurs the edges of the lines) but it's not enough to matter at all.
✔ FAINT DOTS
The 5mm-spaced dots are just right; not too bold and not too faint. And the paper is a pleasing pale cream – also just right in my opinion!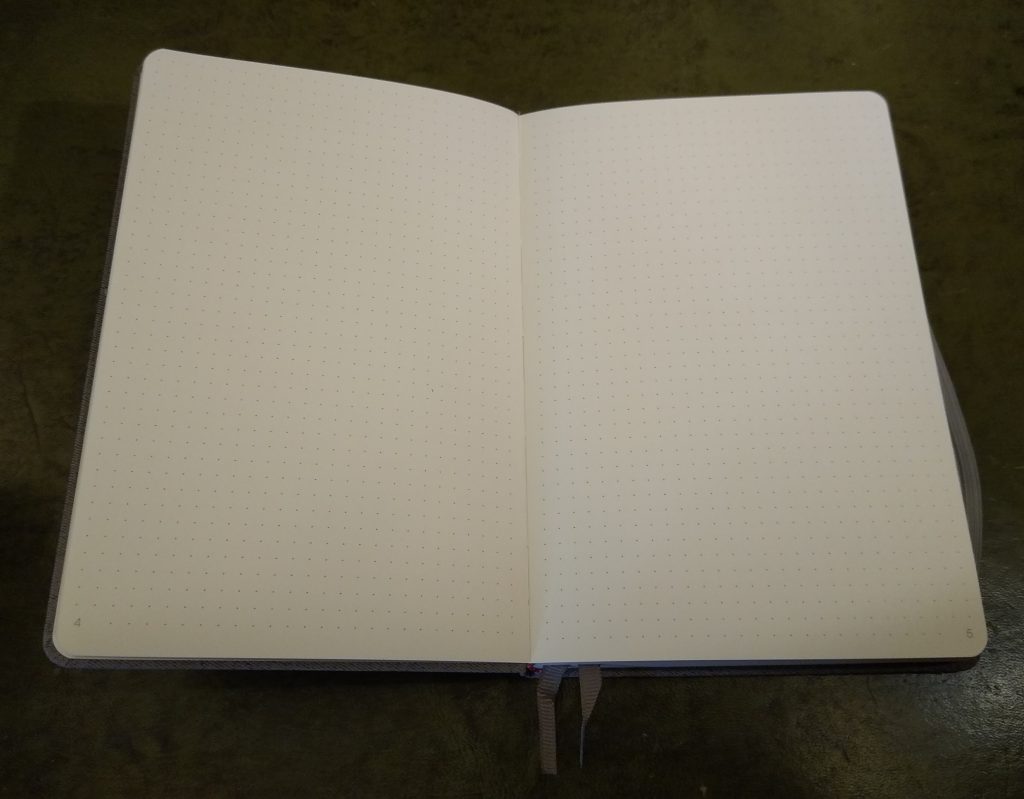 ✔ NUMBERED PAGES
Numbering pages is often really useful in bullet journaling, but doing it by hand is a drag and easily forgotten. So pre-numbered pages are very handy!
✔ FUN COVER COLOURS
I've used all five in the Classic and Colour Pop range now, but their new Fabric Luxe range has even more great colours! I am torn on whether to try one or not, since they have thicker paper and thus fewer pages…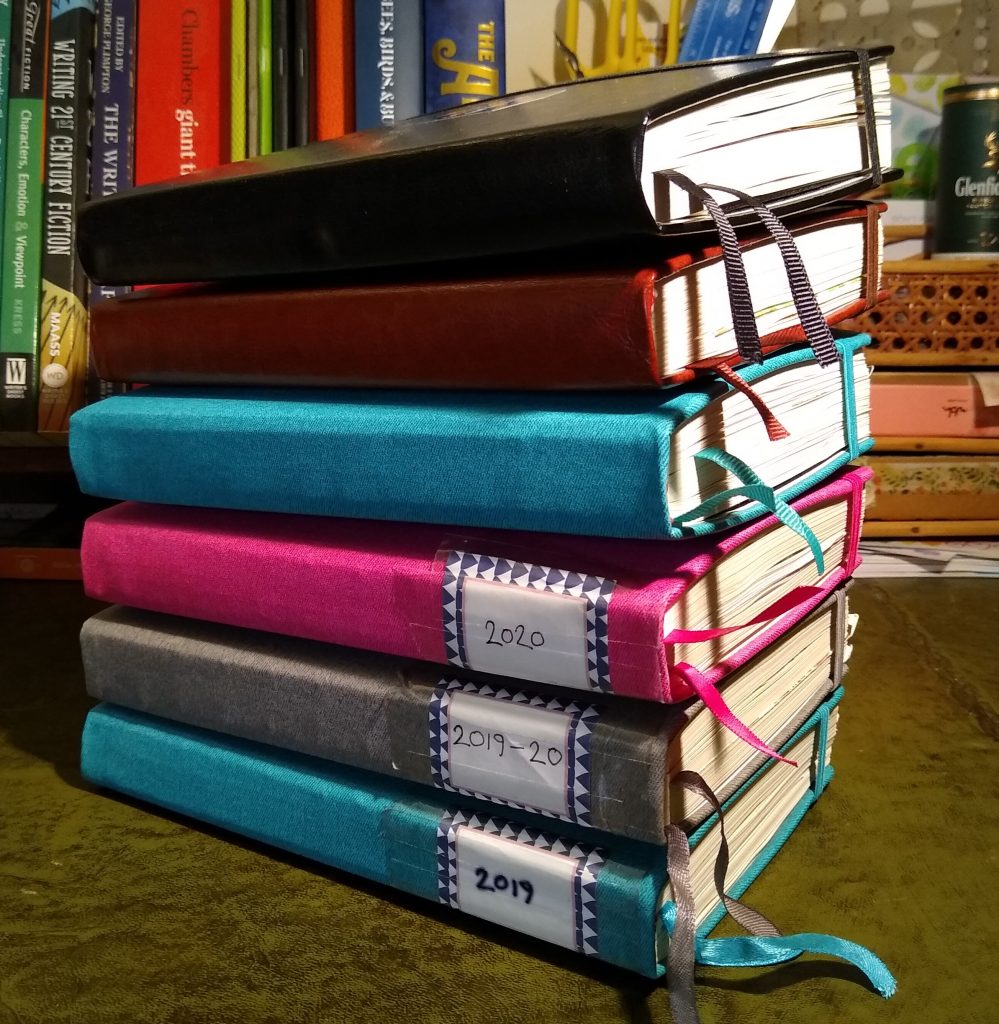 ✔ TWO RIBBON BOOKMARKS AND HANDY BACK POCKET
Having two bookmarks included is great, because you can keep one in the current page and use the other for a collection or project/notes page that you're using currently – or you could put one in at the current monthly log.
Despite my best intentions, notes still get scribbled on loose bits of paper sometimes… So they often end up stuffed in the back pocket waiting to be dealt with properly. I also use the pocket to keep any paper mementos that can't be taped into the journal. This might include the occasional thank you note, invitation or greetings card, or a leaflet for someplace I visited.
✔ LAYS FLAT – ALMOST
Though it is designed to lay flat, to be honest it's not always perfect, especially if I've been sticking lots of mementos in, and sometimes I need to use my page holder clip. You can help it to lay more flat, though, by breaking in your new notebook properly. That means gently opening out the binding when it's brand new, to distribute the stress evenly across the binding, instead of stressing it all in one place.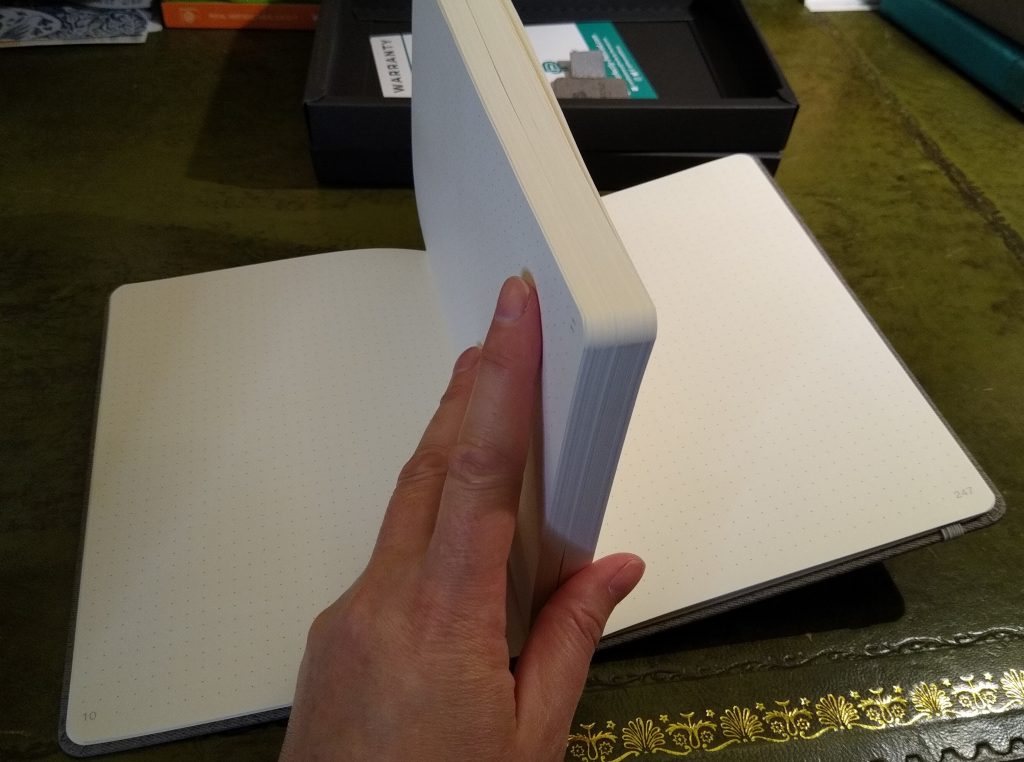 Just hold your notebook on the table so that it's standing on its spine. Let down the front and back covers to the table. Then let down about ten pages from the front of the notebook, and press them down flat with your hand along the seam. Then let down ten pages from the back and press them flat… Repeat this, working from the outside in, until you reach the centre of the book and all pages are pressed flat on the table. You've now flexed the whole spine of the notebook pretty evenly, and it should stay free of tight spots or weak spots.
✔ FSC-CERTIFIED PAPER
The notebooks are made with sustainably sourced FSC-certified paper. The whole range is also vegan-friendly.
PEN HOLDER LOOP AND GIFT BOX
There's a separate self-adhesive pen loop with each notebook, so you can stick it wherever suits you best. Personally I don't use it, but it's a lovely touch! I should also say that they come in a lovely gift box – great for gifting and also a little bit of extra protection in the mail.
SUMMARY
Perfectly Penned notebooks are a joy to use, and while I know they won't be just perfect for everybody, they are just perfect for me and I recommend them wholeheartedly! I'm so grateful I found them in my search for the best bullet journal. I'm happy to be supporting a small UK business too, and I hope they stick around – I'm gonna be needing a lot more notebooks!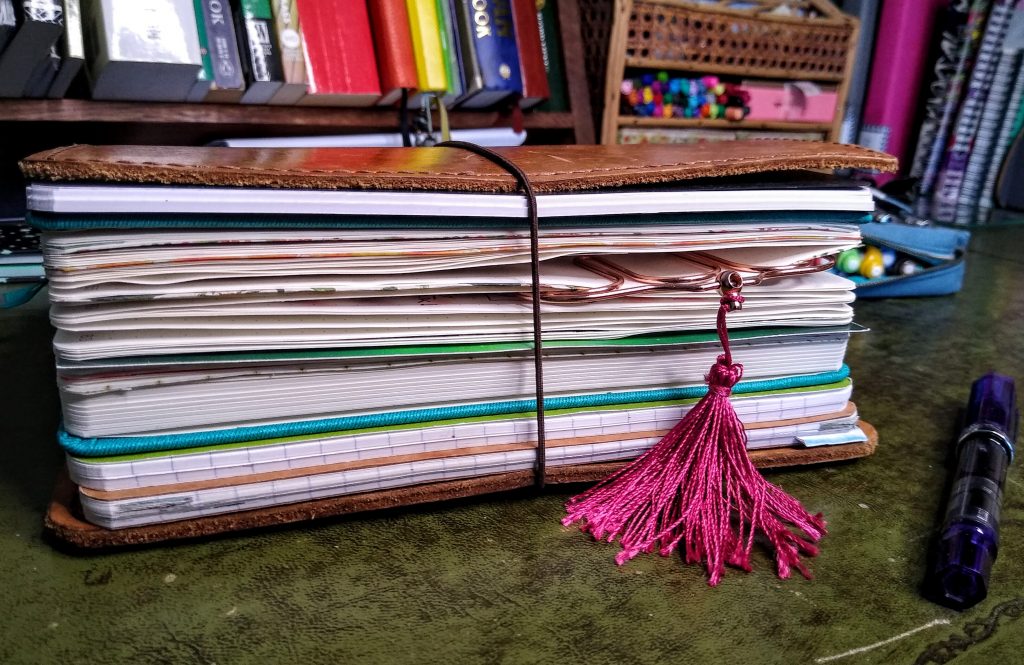 WHAT ABOUT YOU?
What are your priorities when choosing a bullet journal notebook? Have you found your dream notebook yet?
LIKE THIS POST? PLEASE SHARE!