September always feels like a strange transitional time – not quite still summer and not quite autumn. We think of it as a time of change, but when we look closer we see that things have already been changing under our noses for a while now. Of course things are always changing! The September garden is not usually a place for any big or urgent jobs, but for gentle pottering, tidying up of the old, and getting ready for the new.
The autumn tidy-up generally begins with deadheading and cutting back spent flower stems. I often see people taking the tops off old flowers but leaving unsightly stems behind, even if they have no buds on them. Plants will look much better if you cut those stems right back to the base, or to just above a bud. Dead branches can be cut off shrubs and trees, browned leaves can be removed from perennials and bulbs, and it's a good time to get weeds in check too.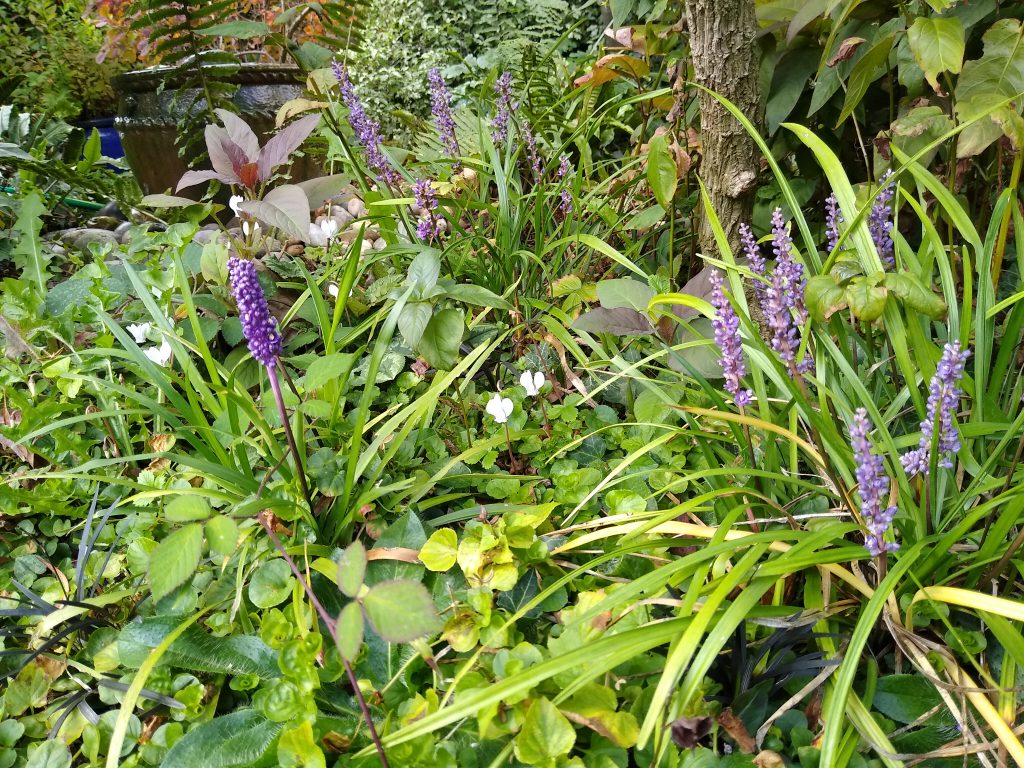 Inevitably some clutter accumulates during the gardening year, and so it's also a good time to tidy up those plant pots and labels, the shed and greenhouse perhaps, and any other random detritus. Or is that just my garden…? Assess potted plants: clear out any that have died and pot-on those that are getting cramped after a good summer's growth. I am a chronic plant-rescuer and always have dozens of pots to look after…
SEPTEMBER FLOWERS
Rudbeckia, dahlias, verbena bonariensis, Japanese anemones, geraniums 'Rozanne' and 'Ann Folkard', liriope muscari, cyclamen hederifolium, abelia, phlox, fuchsia, erigeron karvinskianus and the fabulous Queen Elizabeth rose are all in flower in my September garden, providing plenty of colour and nectar for insects. There are a few cosmos, Californian poppies and calendula too, which I hope will self-seed and be more numerous next year. And leaves of cotinus and acers are beginning to redden, increasing autumn's rosy glow.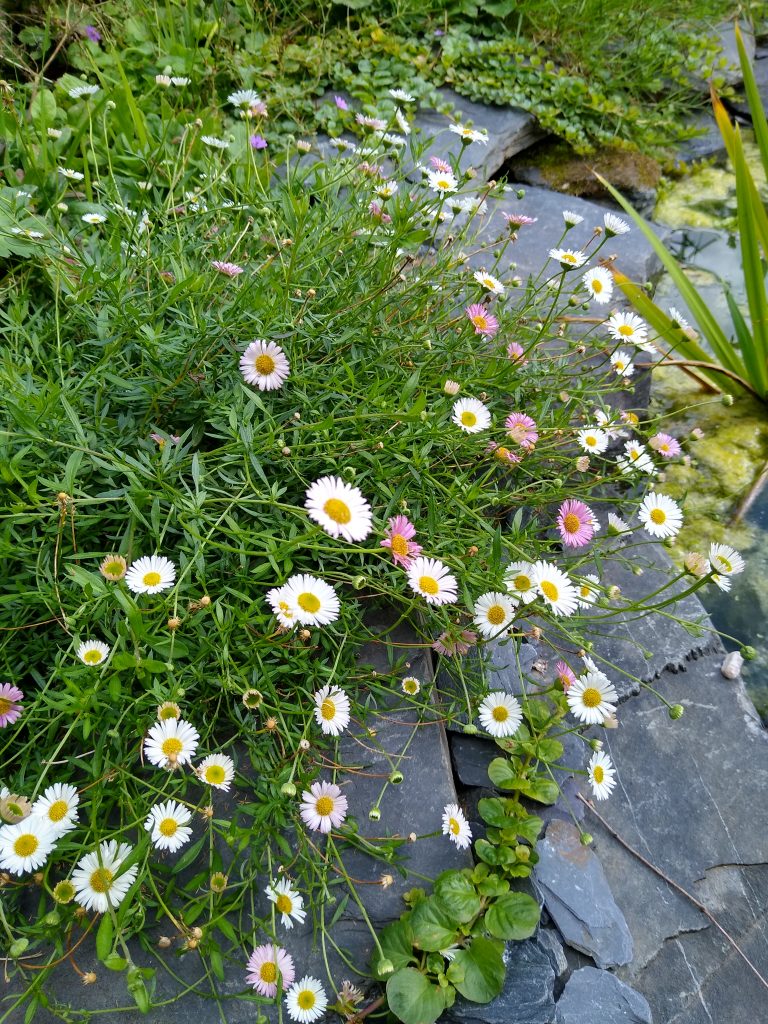 My patio pots are still thriving, though I feel almost ready to swap them out for the winter ones! I'm not generally much a fan of bedding-type plants, as they don't tend to offer anything for the insects… But this mix of lantana, heliotrope and bright pink calibrachoa has been popular with bees and butterflies and is a combo I'll plant again! I'm still feeding them, when I remember…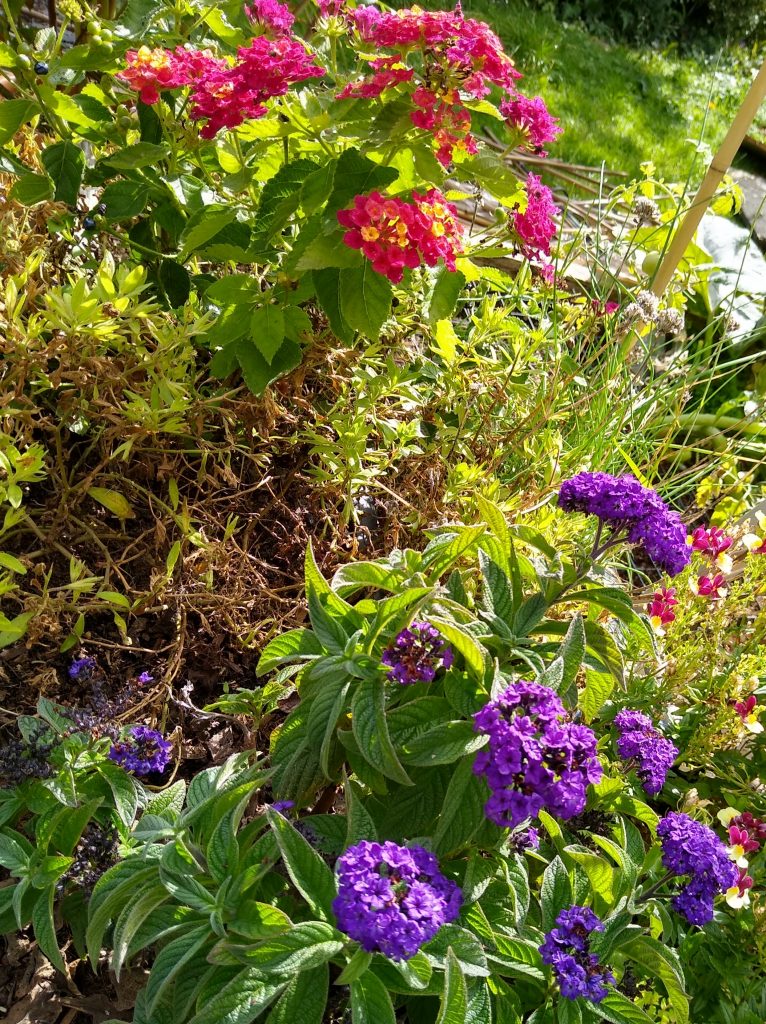 Perennials can be divided now, and it's a great time to plant new plants as they're virtually guaranteed moist soil for the next several months, to put down their roots and settle in nicely.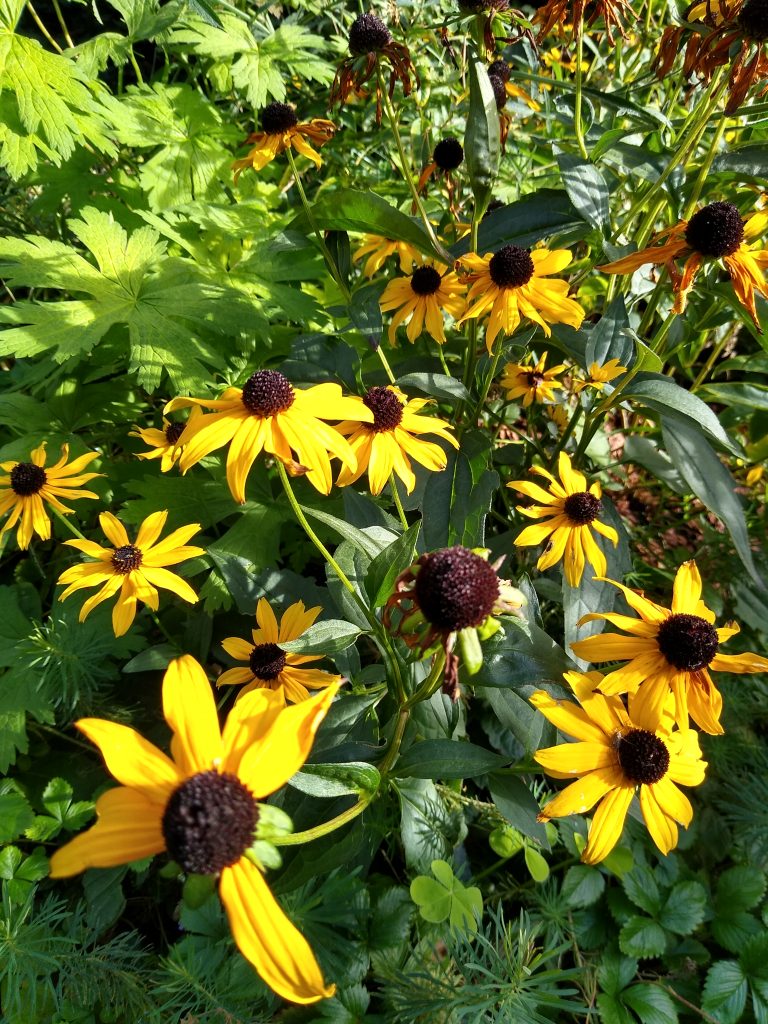 SEPTEMBER VEGETABLES
It's been a tough year for growing veg. Our leafy summer crops struggled through the drought, the tomatoes have been smaller than usual, and the courgettes have awful mildew. But there's plenty to be thankful for; we're still harvesting courgettes and tomatoes now, and we have chillies and aubergines ripening. I'll keep feeding them until the end of the month, and I've pinched out the tomato tops and sideshoots to focus the plants' energy on ripening the last fruit.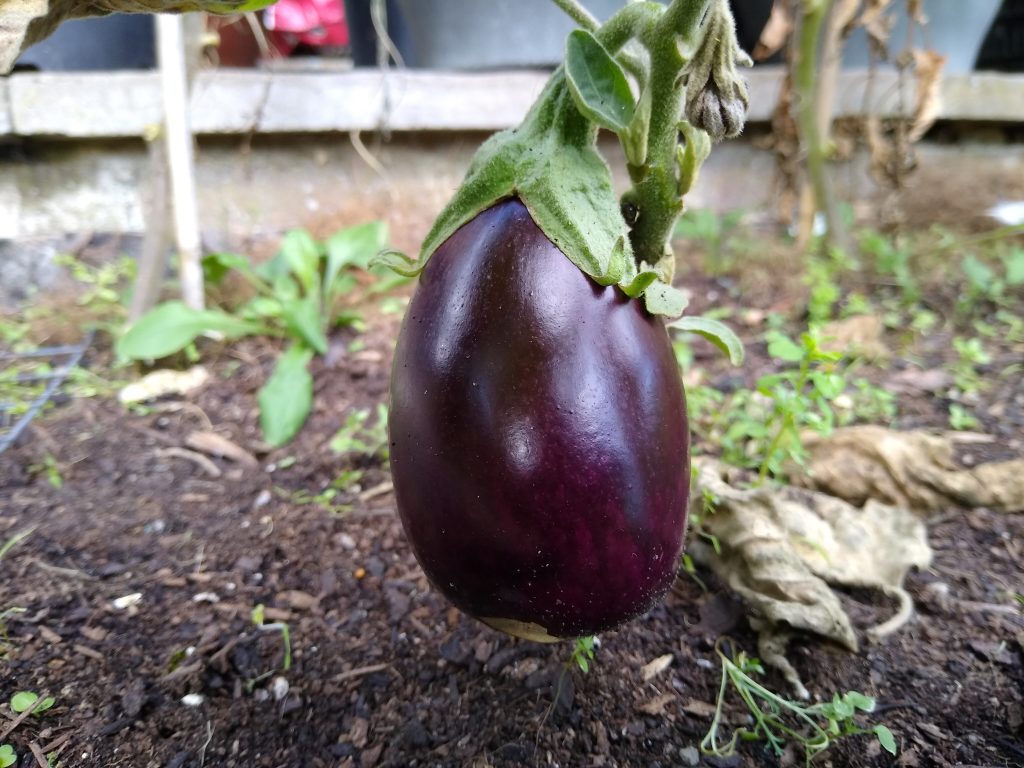 I picked the squash extra early, as they seemed perfectly ready and the plants were dying off already – another symptom of the overly dry weather I suppose. They've been curing in the sun for a couple of weeks and we'll eat them soon… They are Crown Prince and Uchiki Kuri. Grown in pots, each plant gave us just one fruit each! But we don't have the room to put them in the ground.
There's heaps of kale to be picked. I will have to net it soon before the pigeons move in, but we find the wasps keep the caterpillar numbers right down during summer which is a blessing. When we had an allotment, our brassicas (cabbage family plants) didn't stand a chance against caterpillars – when so many people are all growing the same crops concentrated in one place, the pests get concentrated too. Growing in a richly diverse garden among ornamental plants and trees has huge advantages! This is a perennial kale called 'Pentland Brig'. It's been going for several years now in the same spot. I can hack it back as much as I like and it always grows new shoots, and requires very little care. If only veg-growing was always this easy!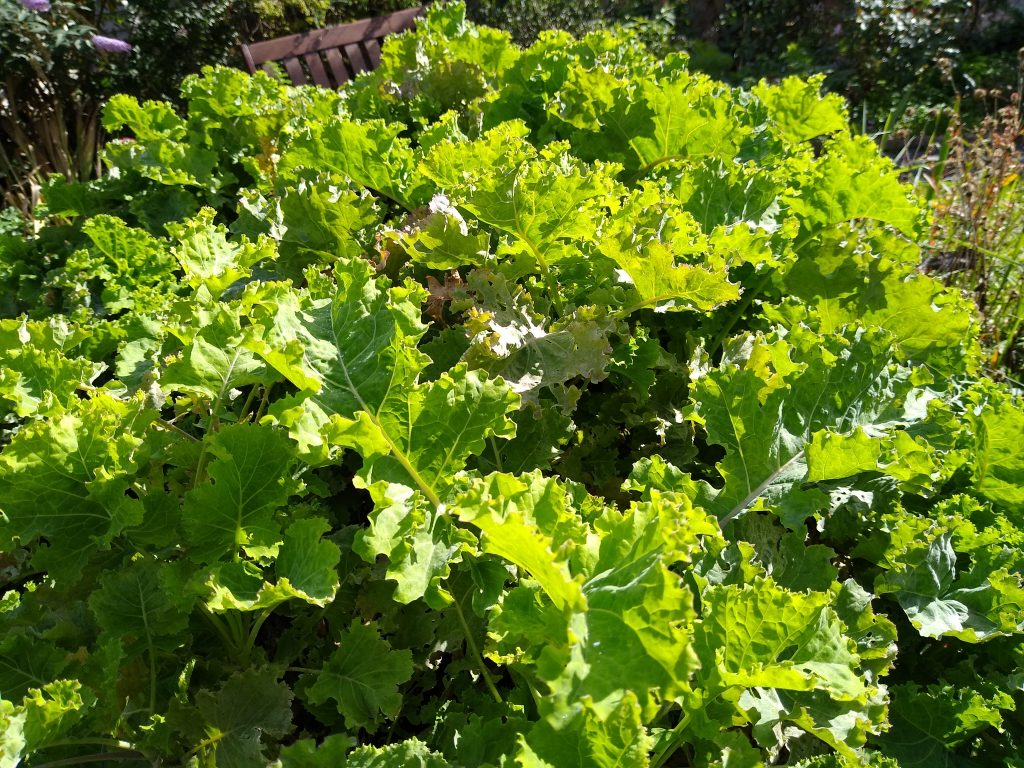 The carrots have done pretty well despite the dry conditions. I am rubbish at thinning them, so they're all packed together. But they're delicious, and (so far) untouched by carrot fly thanks to being high up in the raised bed.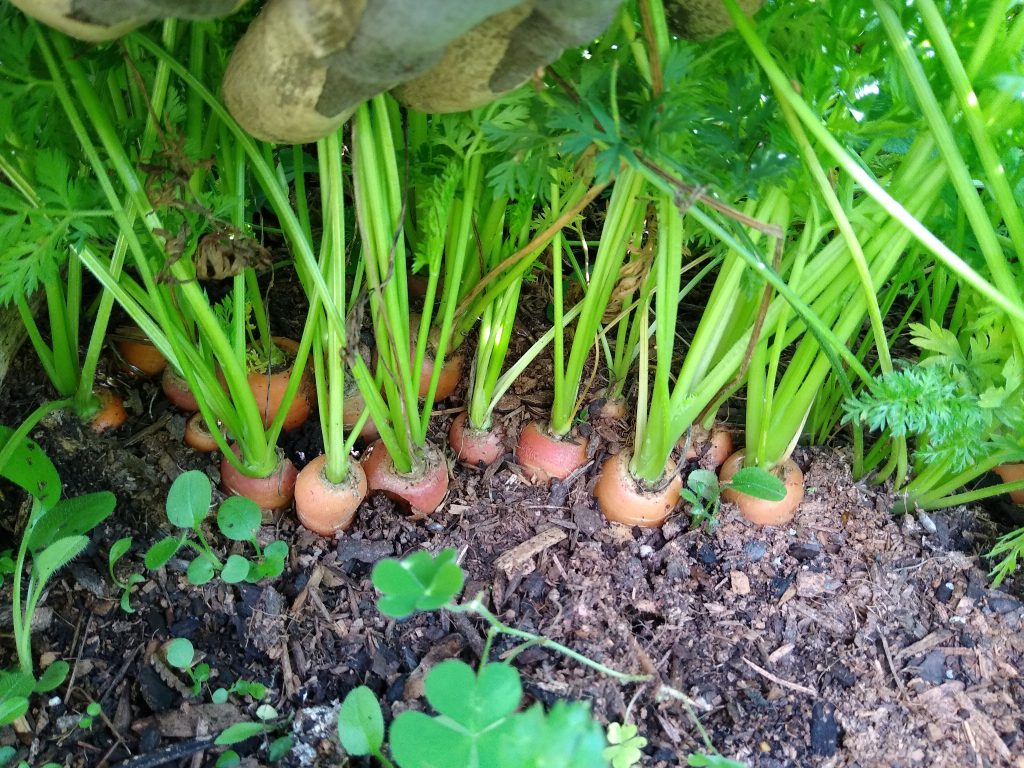 The Swiss chard hasn't done very well so far, but it still has some time to grow before winter. The parsley is smaller than it could be, but looking great! The weed you can see a lot of around the parsley rows is reichardia picroides, aka French scorzonera or common brighteyes – an edible providing mild and slightly sweet leaves all year round. I positively encourage it, and will transplant many of these volunteers into their own spaces in spring!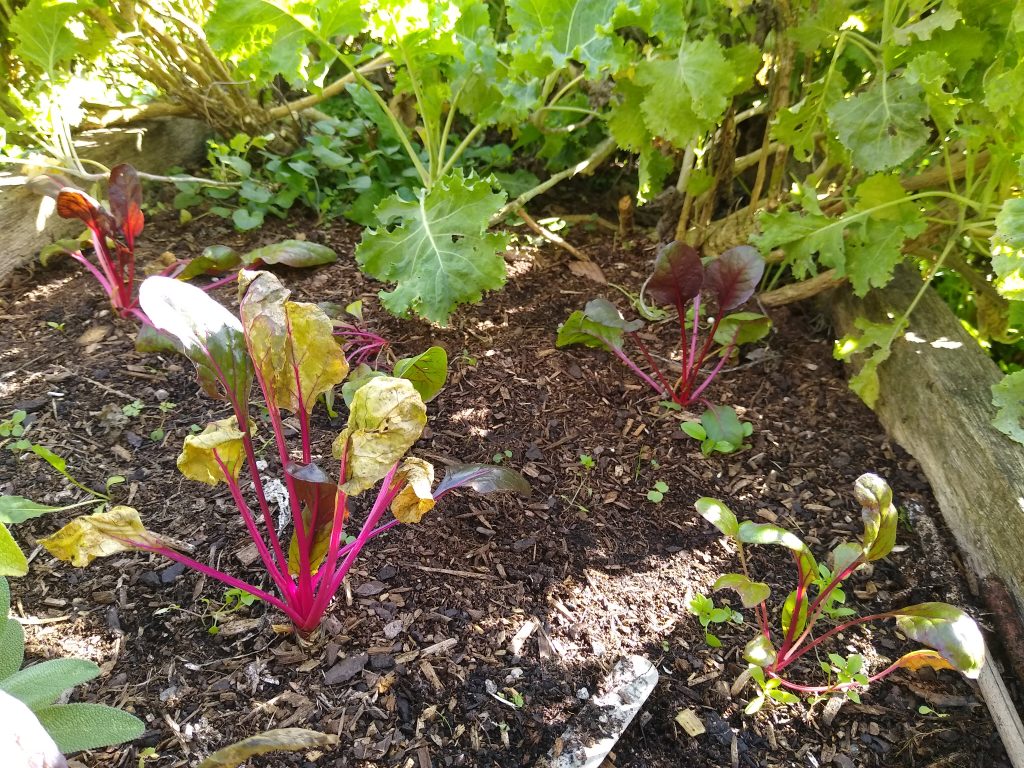 Today I have sown new seeds in the raised bed for cos lettuces, lamb's lettuce, winter spinach, mixed spicy leaves, choi sum and a quick-growing variety of broccoli. Other seeds you can sow in the garden in September are radish, rocket, kale, pak choi, spring greens, coriander, pea shoots and some turnip varieties. I always cover new seeds (and bare soil in the veg beds) with wire shelves saved from old plastic greenhouses, to keep the cats off. I also put peppermint oil on cotton wool balls along the spinach rows, to keep the mice away – I've lost hundreds of spinach seeds to mice in the past! They leave the little chewed shells behind to let you know…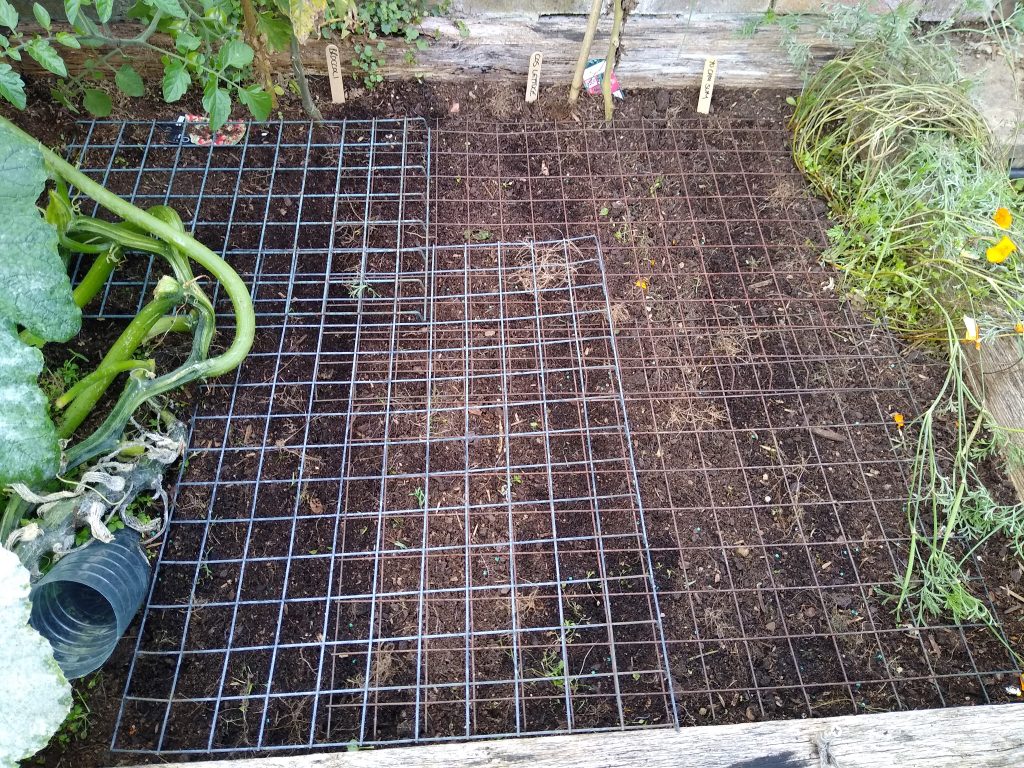 Real Seeds is my number one favourite seed-seller – they have so many great and interesting varieties, including loads of heirlooms, all open-pollinated so that you can save your own seed, and the quality is excellent. And in case you were wondering, I use these plant labels; wooden ones don't last forever of course, but I can't abide using plastic. Buying in bulk like this means I can replace them as frequently as I need! Searching for the perfect plant label is a bit like searching for a unicorn…
SEPTEMBER FRUIT
It's a good time to prune fruit trees, after the last fruit has been picked, and prunus-family trees such as my potted Victoria plum MUST be done before the first frosts (usually October), or else the new cuts are susceptible to disease. I trimmed some sagging, damaged and tangled branches from mine to improve its shape. I also repotted it, and the fig tree, with some fresh soil and a little general-purpose feed.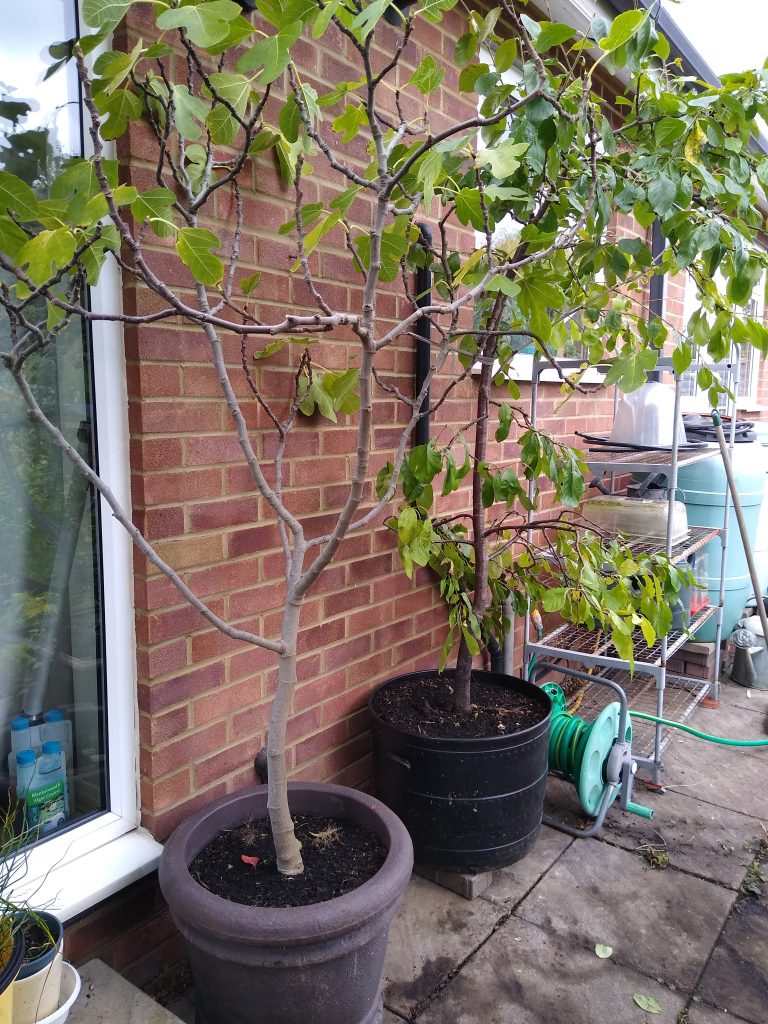 The strawberry plants need a good tidy-up – next time I'm out there I'll cut off all except the newest, healthiest leaves, and get rid of unwanted runners. I'll pot a few up to replace the oldest plants next year.
The autumn raspberries, in the same bed, are not doing well right now (despite the summer ones performing brilliantly all June and July!). I've made a note to add plenty of fresh compost and feed next spring!
SEPTEMBER WILDLIFE
Bees and hoverflies still feed on the buddleia and verbena, common darter dragonflies are a daily sight, and spider webs catch the light between plants in the low light of each morning. Two new species I've spotted in the garden in September are a very striking cinnamon bug, and a straw underwing moth (actually found in the house, as night-flying moths usually are).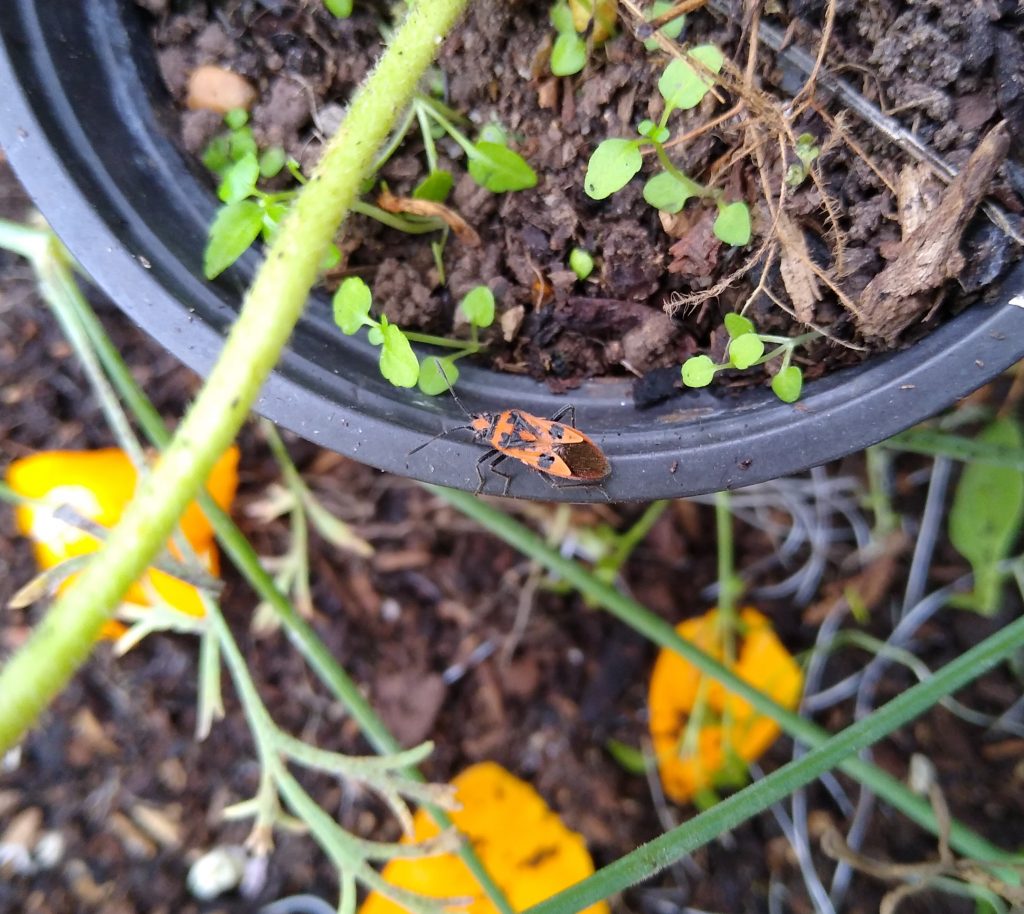 I disturbed a very sweet little wood mouse while tidying out the shed. I didn't mean to catch him in this box but that's where I found him, underneath some folded hessian sacks, and he sat there obligingly while I took a photo. The local foxes have begun making themselves known again too, with their eerie barking and squealing!
I've had to take the bird feeders down after spotting a dunnock that looked like it had trichomonosis, and finding another dead. It's funny because the disease usually affects greenfinches first, and all our greenfinches look perfectly healthy! The guidance is to stop feeding for at least two weeks, to force birds to disperse a bit. I'll disinfect the feeders, too, before I put them back out. There is plenty more food for the birds here in the September garden, however, with rosehips and the berries of holly, cotoneaster and rowan to feast on, as well as a wealth of insect life.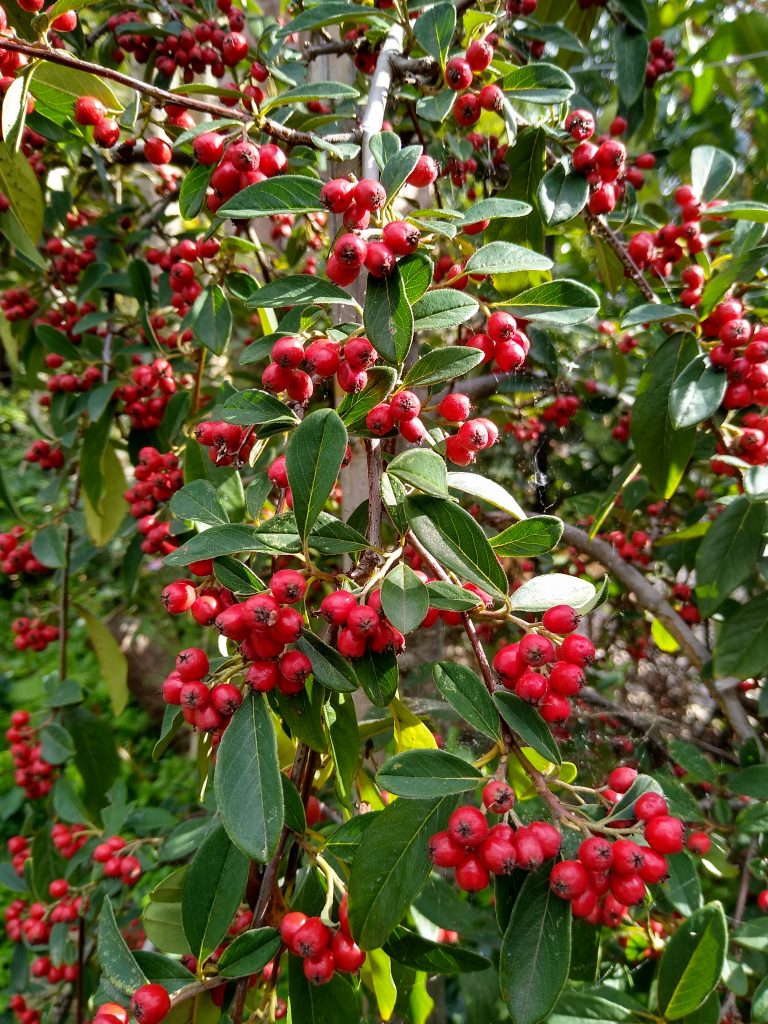 Earlier this month I spotted a female black redstart in the garden – a new visitor and an unusual one! Fewer than 50 pairs nest in this country, but more pass through in the spring and autumn as they migrate. It's a plain little bird apart from its flashy amber tail, which it flutters and flares as it moves – it was quite eye-catching!
---
TOP JOBS IN THE SEPTEMBER GARDEN
Harvest fruits and fruiting veg. Dig up any last potatoes.
Keep feeding fruits and bedding plants.
Trim strawberry plants back to two or three new leaves, and discard or pot up unwanted runners.
Cut down the fruited canes of summer raspberries. Tie in the new canes, which will fruit next year.
Tidy up the garden, greenhouse and storage areas. Sort out container plants, potting-on and throwing-out as necessary.
Sow last veg seeds for cold-tolerant crops such as winter spinach, lettuce, rocket and other spicy greens, pak choi, witer purslane, lamb's lettuce and chervil.
Sow hardy annual flowers for next year, such as calendula, ammi, larkspur, nigella, eschscholzia (California poppy), phacelia, borage, cornflower, cerinthe, salvia and scabiosa.
Prune plum trees.
Weed. Weed growth often goes nuts at this time of year when rainfall increases.
Deadhead flowering perennials.
Begin cutting back browning perennials.
Divide congested perennials (including rhubarb) and replant. Add new plants if desired.
Plant spring bulbs, except tulips (plant these in November).
---
MY FAVOURITE PLANTS FOR SEPTEMBER COLOUR
Dahlia (tender flowering perennial)
Rudbeckia (flowering perennial)
Phlox (flowering perennial)
Hylotelephium (flowering perennial)
Japanese anemone (flowering perennial)
Hardy geranium e.g 'Rozanne' and 'Ann Folkard' (flowering perennial)
Verbena bonariensis (flowering perennial)
Erigeron karvinskianus (self-seeding flowering perennial)
Fuchsia (flowering perennial)
Salvia 'Hot Lips' (flowering perennial)
Cyclamen hederifolium (flowering bulb)
Liriope muscari (flowering perennial)
Cosmos 'Sensation' (self-seeding annual flower)
Calendula (self-seeding annual flower)
Lantana and heliotrope (summer bedding)
Many shrub roses (flowering shrub)
Abelia (flowering shrub)
Hypericum 'Hidcote' (flowering shrub)
Acer (foliage)
Cotinus (foliage)
Rosa glauca (berries)
Cotoneaster (berries)
Holly (berries)
Pyracantha (berries)
Rowan (berries)
Malus/crab apple (ornamental fruit)
---
CURRENTLY HARVESTING AND EATING
Carrots
Kale
Tomatoes
Courgettes
Squash
Parsley and chives
Woody herbs: rosemary, sage, bay, oregano, thyme, savory
French scorzonera
Sorrel (non-flowering type)
Garlic (from stores)
---
WHAT ABOUT YOU?
How is your garden growing as the seasons turn this September? Are you picking anything edible from your plot this week? Have you discovered the perfect plant label?
LIKE THIS POST? PLEASE SHARE!